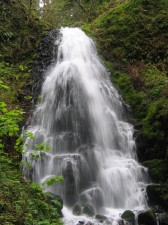 What is community acupuncture?
Community acupuncture is a concept that makes acupuncture accessible and affordable to more people. Acupuncture was developed over 3,000 years ago in China. As it's entered the Western mainstream, it's become so expensive that most people can't afford it. The community acupuncture concept makes it affordable for everyone.
When you walk into Laughing Buddha's community acupuncture clinic, you will likely see a few other patients lying in comfortable recliners. These patients may be talking quietly with Susan, receiving needles, or relaxing. There's a good chance at least one of them will be sleeping, so along with relaxing music you may also hear a bit of snoring.
It is because the treatments are given in this community environment that we can keep the prices low. Despite this group setting, each patient is given the practitioners' full attention, and a treatment plan is created specially for each individual.  Appointments are suggested for your first visit.  This will allow the practitioners to spend some extra time with you reviewing your health history and getting a solid background so that your treatment will be as effective as possible.
At Laughing Buddha, we utilize an acupuncture style that treats a wide variety of patient complaints and disorders by inserting needles primarily on the legs, arms, ears, and scalp. Using this style of acupuncture allows patients to receive effective treatments without having to disrobe or wear a medical gown.
Patients who have tried acupuncture in a community setting find it very relaxing and therapeutic. Many patients have stated that having other people in the room made them feel more comfortable about acupuncture, especially their first experiences with it. Other patients enjoy bringing friends along so that they can support their health while spending some time together. I have two patients who bike together. On the days following their bike rides, they come in to the clinic together and receive acupuncture treatments to help their aching muscles recover and to treat their bodies after each strenuous ride.
Whatever it is that ails you, give community acupuncture a try. You don't have to live with back pain, acid reflux or headaches anymore. Laughing Buddha Community Acupuncture can help you feel better. Now you can afford to take charge of your health!